CAREER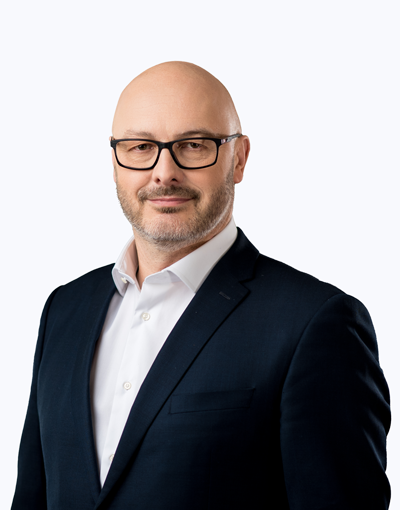 Maciej Wyczesany
President of the Management Board, CEO of Apator SA
Maciej Wyczesany's responsibilities include, in particular:
determination of directions and operationalization of the strategy of Apator SA and Apator Group,
supervision of Apator Group companies and consolidated financial results,
conducting the affairs of the Management Board of Apator SA and managing its works in accordance with the Polish Commercial Companies Code, the Articles of Association of Apator SA and internal regulations binding in Apator SA,
supervision of the following areas: financial, purchasing, production, technological, design, marketing and sales of products in Apator SA.
Maciej Wyczesany is a graduate of economics at Nicolaus Copernicus University and the IMD program - Digital Disruption in Business.
Maciej Wyczesany is a manager with more than 20 years of experience gained in industrial entities with both Polish and international capital. From 2009 to 2022, he served as CFO and Management Board Member at DOVISTA Polska Sp. z o.o., part of the Danish VKR Group, which manufactures window and door joinery, under brands such as: Velux. From 2006 to 2009, he served as CFO and chief accountant at Gunnebo Industries, a Swedish group company in the construction industry. Among other things, he was responsible for merger and acquisition processes and investment processes related to increasing the value of the company. He directly managed the areas of finance, controlling, HR and IT. He carried out tasks related to the development and implementation of corporate strategy, team building and organizational culture change processes.
In earlier years, Maciej Wyczesany gained professional experience as a finance manager, accounting manager and financial controller.
Maciej Wyczesany does not run any competitive activity to Apator SA, he does not participate in any competitive company as a partner of civil partnership, partnership, he is not a member of the body of competitive capital company and he does not participate in any other competitive legal person as a member of its body.
Maciej Wyczesany is not listed in the Register of Insolvent Debtors, maintained pursuant to the National Court Register Act.
Back

The tenure of the Management Board of Apator SA lasts three years and it ends on the day of the General Shareholders Meeting of Apator SA to be held in 2025.
CONTACT ON INVESTOR RELATIONS
Contact for institutional investors and analysts
Management and Promotions Director of Apator Group
FAQ
Frequently asked questions and answers.